38 Foot Double Lane Bungee Run Nuclear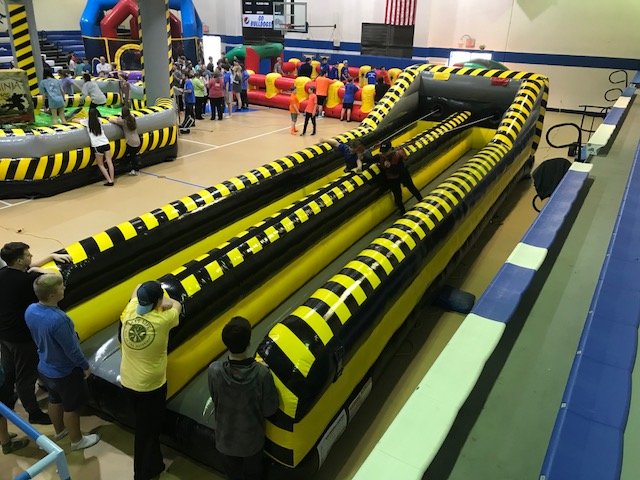 Setup Area: 42x14x10
Outlets: 1
Description
This is our 38 Foot Double Lane Bungee Run in Nuclear colors. One of the first interactive games ever designed, the Bungee Run has been a party favorite for many years. Great for schools, churches, company picnics and team building events!



Looking for an exciting and challenging activity for your next event? Look no further than the 38 Foot Double Lane Bungee Run Nuclear! This thrilling inflatable game is perfect for parties, festivals, and corporate events.
The bungee run features two lanes, each with a bungee cord attached to a harness worn by the participant. The goal is to run as far down the lane as possible before the bungee cord pulls the participant back to the starting point. The 38-foot length of the lanes ensures that participants will have plenty of room to run and compete against each other.
The Nuclear theme adds an extra level of excitement to the bungee run. The bright green and yellow color scheme and radiation symbols create a fun and visually striking design. The inflatable also features a large "Nuclear" banner across the top, making it easy to spot from a distance.
The 38 Foot Double Lane Bungee Run Nuclear is suitable for all ages and skill levels. It's a great way to get people moving and engaged at your event. Plus, it's sure to be a hit with adrenaline junkies and competitive types alike.
Don't miss out on the fun – book the 38 Foot Double Lane Bungee Run Nuclear for your next event today!