Pirates Revenge Carnival Ride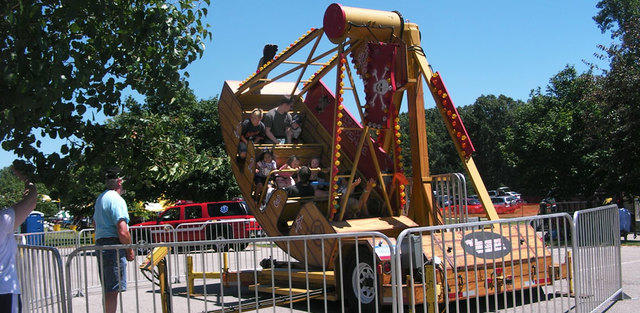 $1,750.00
Please call to reserve this item.

Description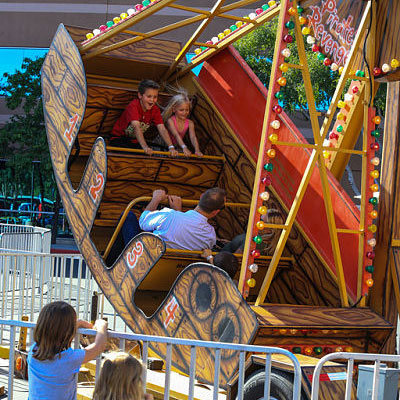 This is your next Carnival Ride Rental. Climb aboard the Pirates Revenge carnival ride for a sail across the 7 seas! This mini pirate ship carnival ride is a crowd favorite and is great for kids, teens and adults. Pirates Revenge can hold up to 12 riders at once and swings back forth for a thrilling ride. It even lights up in the evening with colorful LED lights! This pirate ship ride is the perfect carnival ride for your event, whether it's a company picnic, festival, church or school carnival.Pirates Revenge - You'd better have your sea legs ready before you climb aboard the Pirates Revenge - one of our newest mechanical rides. Up to 12 kids and adults can ride with their friends in this pendulum swinging carnival ride
Ahoy, mateys! Get ready to set sail on the high seas with the Pirates Revenge Carnival Ride. This thrilling attraction is perfect for adventurers of all ages who are looking for a swashbuckling good time.
The Pirates Revenge Carnival Ride features a giant pirate ship that swings back and forth, reaching heights of up to 15 feet in the air. As you soar through the sky, you'll feel the wind in your hair and the rush of adrenaline in your veins.
But that's not all - the Pirates Revenge Carnival Ride also includes sound effects that will transport you to a world of pillaging pirates and treasure-filled islands.
With its impressive size and heart-pumping action, the Pirates Revenge Carnival Ride is sure to be a hit at your next carnival, fair, or festival. So come aboard, me hearties, and prepare for an unforgettable adventure!